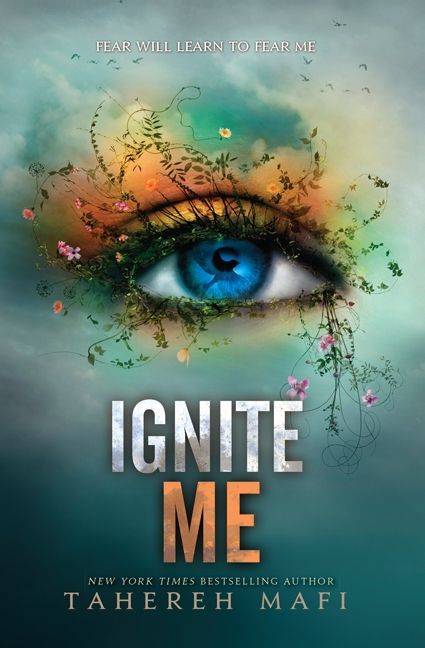 Ignite Me by Tahereh Mafi
Release Date: February 4, 2014
Publisher:
HarperCollins
Series: Shatter Me, Book 3
Rated: YA 14+
Format: Paperback
Source: Borrowed (thanks Richa!)
Buy: Amazon ● The Book Depository
Goodreads
●
Website
Read my review of Shatter Me HERE.
Read my review of Destroy Me HERE.
Read my review of Unravel Me HERE.
Read my review of Fracture Me HERE.
The fate of Omega Point is unknown.
Everyone Juliette has ever cared about could be dead. Juliette may be the only one standing in The Reestablishment's way. But to take them down, Juliette will need the help of the one person she never thought she could trust: Warner. And as they work together to defeat their mutual enemy, Juliette will discover that everything she thought she knew–about Warner, her abilities, and even Adam–was wrong.
Oh my goodness–it has taken SEVERAL years but I'm finally at this point! I FINISHED THE SHATTER ME TRILOGY!! Never mind that there are three more books to come...I actually finished the original three after years of putting it off! My track record for actually finishing series is terrible and this is an accomplishment in my eyes, so I'm gonna pat myself on the back for this one. Anyway. It all comes down to this: Ignite Me. From first really loving this book a few years ago, to re-reading it recently and not enjoying it as much, to loving the novella from Warner's POV, to enjoying the second instalment, to kind of switching sides in Adam's POV, it all comes down to this. While I did appreciate some of the awesome changes that this book presented, there were a few things I didn't quite enjoy. It's kind of like the Mockingjay of the series–I was left wanting more because I wasn't completely satisfied (which kinda works out seeing how there are going to be more books).
First of all, I liked Juliette the best in this book. She FINALLY grew a backbone, became much more grounded, and actually kicked-ass. She quit her whining, guys! And I'm gonna tell you–it made reading this book sooooo much easier. And then of course, what good is Juliette with all the boy drama? Team Adam and Team Warner...it all plays out here. There's a pretty clear ending for this love triangle that has gone back and forth in the previous books in the series, but I'm gonna scream if book four reintroduces it. Also–Team Kenji ftw, because Kenji is still the best character, in my opinion.
Okay, what I didn't really enjoy about this one was that it was kind of convenient. Like it was convenient that things started to fall into place, and it was convenient that problems were solved pretty quickly. Obviously it isn't the end of the story, but the last third or quarter of the book was just super (one last time!) convenient. I wanted a little more push-back or more problems to arise, but instead of action all I got was drama revolving around the romance. I love romance, but in a dystopian book about taking down the new order you KNOW I want my fair share of battle and action alongside steamy scenes.
I can't be totally disappointed with this book because there's another one coming out! If Ignite Me had been the last book of the series I wouldn't have minded either because it does seem to tie up somewhat nicely, but oh well–looks like further problems will arise because all is not what is seems (apparently). Overall I've been pretty into this series and am curious to see where it goes. Ignite Me may have not been my favourite, but it was still pretty damn good.
If you like this try...