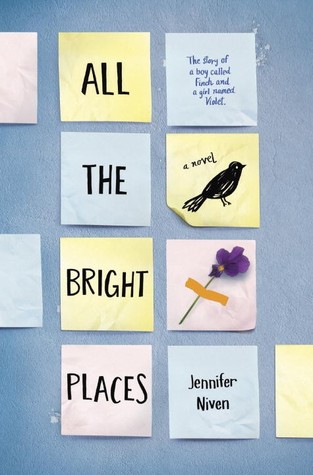 All the Bright Places by Jennifer Niven
Release Date: January 6, 2015
Publisher:
Knopf
Rated: YA 14+
Format: ARC
Source: Publisher
Buy: Amazon ● The Book Depository
Goodreads
● Website
Theodore Finch is fascinated by death, and he constantly thinks of ways he might kill himself. But each time, something good, no matter how small, stops him.
Violet Markey lives for the future, counting the days until graduation, when she can escape her Indiana town and her aching grief in the wake of her sister's recent death.
When Finch and Violet meet on the ledge of the bell tower at school, it's unclear who saves whom. And when they pair up on a project to discover the "natural wonders" of their state, both Finch and Violet make more important discoveries: It's only with Violet that Finch can be himself—a weird, funny, live-out-loud guy who's not such a freak after all. And it's only with Finch that Violet can forget to count away the days and start living them. But as Violet's world grows, Finch's begins to shrink.
This is a heart-wrenching, unflinching story of love shared, life lived, and two teens who find one another while standing on the edge.
I was a little wary of getting into All the Bright Places because the blurb claimed it to be "The Fault in Our Stars meets Eleanor & Park." I didn't really want to set my standards too high because the story easily could have fallen into the familiar story arc of so many other YA contemporary novels: either boy or girl in trouble, meets the other, they save each other. We've all seen this a million times. However, what I didn't expect was to fall head over heels in love with this book and have my heart crushed into a million pieces.
The story is told in the alternating perspectives of our two main characters: Finch and Violet. I will admit that while I was completely taken with Finch from the start, Violet took a little time to warm up to. After that though, WOW. I was so enamoured by both characters, that by the end it was so hard to let them go. Both have their own demons and it's interesting to see how it plays out with their narratives, interactions and relationship. It definitely leaves a lasting mark by the end (no spoilers!), and the build-up is a rickety, heart-pounding climb that follows with the sharp whoosh! of the fall. I just wish though that there had been more of an explanation for Finch's problem, because it comes up several times during the book and it seemed quite random but actually has a large significance in the novel. Maybe I missed it, but I just felt that there could have been more information given pertaining to his "condition."
❝

The rules of geocaching say 'take something, leave
something.' The way I figure it,we stand to get something out of each place, so why not give something back? Also, it's a way to prove we've been there, and a way to leave a part of us behind.

❞
*text is subject to change in the final version
I seriously love the road-trip-feel of the novel without the actual road trip. Both need to escape, but instead of the cliché idea of taking off on a road trip, they actually explore their surroundings but always come back home. I really enjoyed these parts of the book because it was where the romance started to grow as well as where most of the
humour was. With the amount of family problems Finch has and how Violet has to cope with the loss of a sibling – and just in general all the sad parts of the book – you seriously need an ice-breaker now and then. Yeesh, this is not a fluffy book. AT ALL.
Be prepared to laugh, smile, and cry, because Jennifer Niven's bittersweet novel has it all. All the Bright Places was a beautiful story that had me at a golden high and a heartbreaking low, truly the epitome of an emotional roller coaster. Seriously, go read this book right now. I dare you. Keep a box of tissues at hand though, because you are definitely going to need it.
If you like this, try...
JENNIFER NIVEN
JENNIFER NIVEN's first book, The Ice Master, was named one of the top ten nonfiction books of the year by Entertainment Weekly. Her second book, Ada Blackjack, was a Book Sense Top Ten Pick. She splits her time between Atlanta and Los Angeles.
Website
● Twitter
●
Goodreads
A copy of All the Bright Places!
US only
● Must be 13+ to enter
This is a publisher-sponsored giveaway