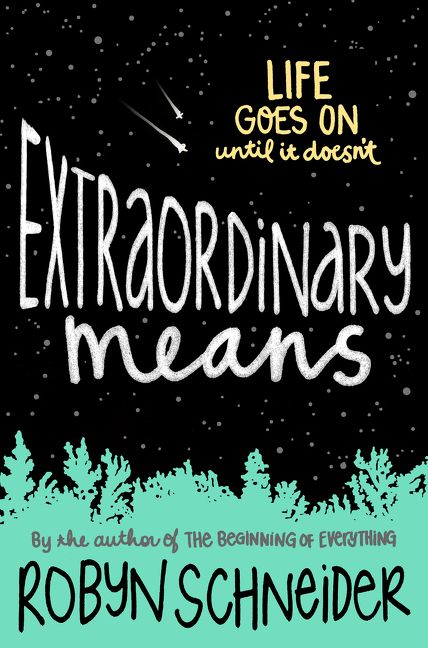 Extraordinary Means by Robyn Schneider
Release Date: May 26, 2015
Publisher:
Katherine Tegen Books
Rated: YA 14+
Format: eGalley
Source:
Edelweiss
Buy: Amazon ● The Book Depository
Goodreads
● Website
At seventeen, overachieving Lane finds himself at Latham House, a sanatorium for teens suffering from an incurable strain of tuberculosis. Part hospital and part boarding school, Latham is a place of endless rules and confusing rituals, where it's easier to fail breakfast than it is to flunk French.
There, Lane encounters a girl he knew years ago. Instead of the shy loner he remembers, Sadie has transformed. At Latham, she is sarcastic, fearless, and utterly compelling. Her friends, a group of eccentric troublemakers, fascinate Lane, who has never stepped out of bounds his whole life. And as he gradually becomes one of them, Sadie shows him their secrets: how to steal internet, how to sneak into town, and how to disable the med sensors they must wear at all times.
But there are consequences to having secrets, particularly at Latham House. And as Lane and Sadie begin to fall in love and their group begins to fall sicker, their insular world threatens to come crashing down.
My sister randomly chose Extraordinary Means for me to read, and I couldn't be happier when she told me that I would be reading a Robin Schneider book. I mean, I haven't read The Beginning of Everything (yet), but I've heard wonderful things about her works. I was super excited to start this one because, in typical fashion, it was compared to John Green's books–The Fault in Our Stars meets Looking for Alaska is a popular comparison by so many other reviewers–so I knew that I was in for a good read.
The contagion genre (thank you Robin Schneider for explaining exactly what genre this book falls under!) is something that I personally haven't seen much of across young adult fiction. Having a book set in the present, but with elements of a dystopian novel, is different from most other books I've read. The dystopian elements present in this novel is an epidemic of Tuberculosis that contaminates several people, and the children are put in facilities such as Lantham House. The story didn't have much of a "dystopian" feel though. It felt like a normal contemporary set in a boarding school...except everyone's sick.
Lane and Sadie were adorable. However, while they were awesome protagonists, I loved the secondary characters even more: Nick, Marina and Charlie. They were so diverse and so loveable. They had their strengths and their flaws, and they added so much more flavour to the novel. The whole friend group is so witty–seriously, I wish I could come up with some of the hilarious comebacks they throw at each other.
I loved Extraordinary Means–it was cute and funny and sad, but above all, it had a lot of heart. I'm really looking forward to reading more of Schneider's books, especially if they're anything like this novel. An adorable relationship with a time limit, spot-on humour, and a deadly epidemic, you need to pick this one up if you haven't already.
If you like this, try...