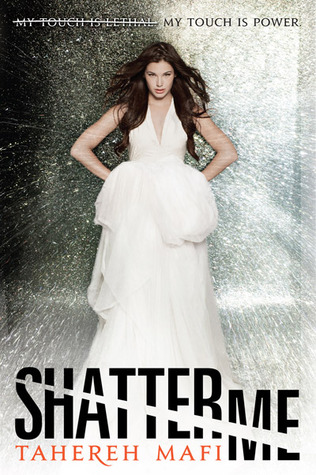 Shatter Me by Tahereh Mafi
Release Date: November 15, 2011
Publisher:
Harper
Series: Shatter Me, Book 1
Rated: YA 14+
Format: Paperback
Source: Gifted
Buy: Amazon ● The Book Depository
Goodreads
●
Website
I have a curse
I have a gift
I am a monster
I'm more than human
My touch is lethal
My touch is power
I am their weapon
I will fight back
Juliette hasn't touched anyone in exactly 264 days.
The last time she did, it was an accident, but The Reestablishment locked her up for murder. No one knows why Juliette's touch is fatal. As long as she doesn't hurt anyone else, no one really cares. The world is too busy crumbling to pieces to pay attention to a 17-year-old girl. Diseases are destroying the population, food is hard to find, birds don't fly anymore, and the clouds are the wrong color.
The Reestablishment said their way was the only way to fix things, so they threw Juliette in a cell. Now so many people are dead that the survivors are whispering war – and The Reestablishment has changed its mind. Maybe Juliette is more than a tortured soul stuffed into a poisonous body. Maybe she's exactly what they need right now.
Juliette has to make a choice: Be a weapon. Or be a warrior.
Before I begin, can I just say how glad I am they changed the cover? I love a good dress on a cover, don't get me wrong, but the new series covers are BEAUTIFUL. Also, I just think that this one in general didn't fit the entire vibe of the book, so yay for actual good cover changes in a series. Anyway, I read this one a super long time ago because my amazing friend gave it to me for my birthday, and while I didn't write a review on it, I'm kind of guessing that I enjoyed it because of the 5-star rating I gave it on Goodreads. I never actually continued with the series, and in a desperate attempt to avoid spoilers FOR LIFE, I'm actually trying to get through series that I've neglected over time. Well, it's the same case as was my re-read of Fallen–I understand why I loved it so much back then, but now I have some problems with the book. Doesn't mean I didn't hate it! I enjoyed a lot of the story, but there were just a few issues I had with the book here and there.
Okay, so I'm kind of half-and-half on the writing. On one hand, it's beautiful. I love the descriptions, because sometimes they're really something else. However, flowery language shouldn't be confused for good language. I feel like a lot of it was overdone and overly descriptive when it didn't need to be. With emotions, sure. But for every single movement? Not necessary. I didn't really need to know how every action that Adam made affected Juliette. It was also kind of repetitive, which was kind of annoying, so I'm hoping that the rest of the series sorts that out. I did like the style of writing though, with the crossed out parts–it made reading Shatter Me a different experience.
As for the characters, I can't say that I have any complaints. Other than the slightly irritating voice of Juliette through the descriptions, I think they all were pretty solid. I liked Juliette, I liked Adam, I loved to hate Warner (I've heard whispers of spoilers of him later in the series, so I'm curious to see how it all plays out), so it was pretty good all around. I LOVED Kenji though, I gotta say. I love a hilarious character in the midst of a serious situation, and I remember loving him the first time I read this book, too.
What I missed in this book, however, was the world building. Like, what even happened to this world? On one hand, the mystery sort of adds to it, but when the characters are sort of running around here and there, it's like um–what does this scene even look like? How's the state of everything on the outside??? World-building is definitely a must for dystopian books because they distort the reality we live in to present potential problems, so give us a visible setting to visualise it clearly please!
All in all, I'm super excited to continue on with the series. I finally get to see what all the hype was about, and finish one of the big, blockbuster series that EVERYONE used to talk about. Shatter Me, despite my thoughts on the writing and somewhat lack of world building, is a promising start to a series, and I know I'm in for an emotional and thrilling ride.
If you like this, try...